【108-1校內學生英語競賽】"A Beautiful Moment on WZU Campus" 2019 English Photo Writing Contest
"A Beautiful Moment on WZU Campus"
2019 English Photo Writing Contest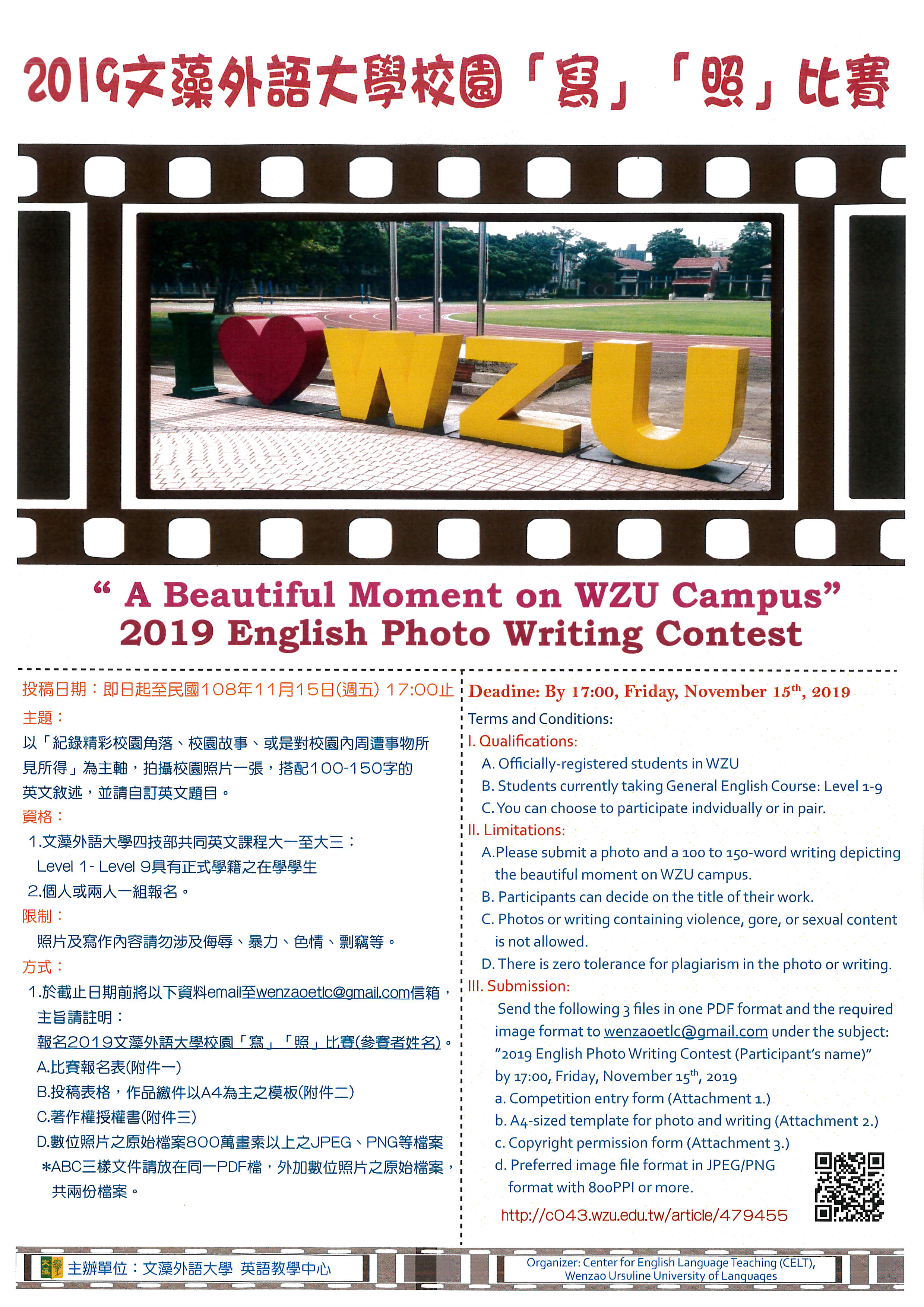 Purpose of the contest

:

This contest aims to arouse students' appreciation of Wenzao campus and to ensure their English writing ability.
Organizer:

Center for English Language Teaching (CELT), Wenzao Ursuline University of Languages
Deadline:

By 17:00, Friday, November 15th, 2019
The terms and conditions:
I.Qualifications:
A.Officially-registered students at WZU
B.Students currently taking General English Course: Level 1-9
C.You can choose to participate individually or in pair.
II.Limitations:
A.Please submit a photo and a 100-150-word writing depicting the beautiful moment on WZU campus.
B.Participants can decide on the title of their work.
C.Entries must be typed.
D.Photos or writing containing violence, gore, or sexual content will not be allowed.
E.There is zero tolerance for plagiarism in the photo or writing.
III.Submission:
A.Send the following 3 files in one PDF format and the required image format to wenzaoetlc@gmail.com under the subject: "2019 English Photo Writing Contest (Participant's name)" by 17:00, Friday, November 15th, 2019
a.Competition entry form (Attachment 1.)
b.A4-sized template for photo and writing (Attachment 2.)
c.Copyright permission form (Attachment 3.)
d.Preferred image file format in JPEG/PNG format with 800 PPI or more.
IV.Judging criteria:
A.60% Writing :
adherence to the topic; creativity in description; structure; language
B.30% Creativity/Originality:
the presentation of the theme in the photo
C.10% Photography:
technical arrangement in the photo
In case two or more contestants have the same final score, the three scoring categories above will be prioritized in the following order to determine the winner: A > B > C .
V.Awards:
A.The competition results will be announced on the CELT website by 17:00, Wednesday, November 27th.
B.3 winners will win cash prizes and a certificate of merit.
a.First prize               NT$2,500
b.Second prize          NT$1,500
c.Third prize             NT$1,000
C.Each participant will be awarded a certificate of participation.
D.Winning photos and writings will be displayed on WZU campus.
VI.Contact: Questions can be directed via telephone or email to Ms. May Lin of CELT
Tel:(07)342-6031 ext. 5903/5904
Email:wenzaoetlc@gmail.com